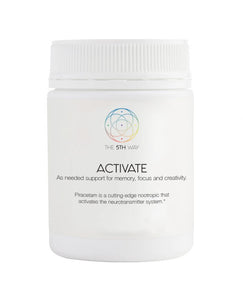 Activate - The 5th Way
Feel mentally activated. As needed support for memory, focus and creativity. Piracetam is a cutting-edge nootropic that activates the neurotransmitter system.
Quantity:
 9 capsules 
Servings:
 9 
Ingredients:
 Piracetam 
NOTE:
 These statements have not been evaluated by the Food and Drug Administration. This product is not intended to diagnose, treat, cure, or prevent any disease.