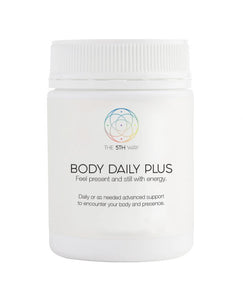 Body Daily Plus - The 5th Way
Feel present and still with energy. Daily or as needed advanced support to encounter your body and presence.
Plant alchemy from baicalin, theobromine and a nootropic creates an experience of deep calm and presence, with physical energy and vitality. Great to take before doing anything requiring movement with focus. Baicalin is traditionally used for naturally decreasing anxiety, improving memory, and protecting vital organs. Theobromine is traditionally used for improving mood, energy, brain function, reducing inflammation, and assisting with sleep regulation.
N-Acetyl-L-Tryptophan (NALT) is a nootropic used for stress relief, cognitive enhancement, fat burning, and mood improvement. It influences several brain systems and hormones at once including Dopamine, Norepinephrine, Epinephrine, and Thyroxine, among others. 
Quantity:
 30 capsules
Servings:
 30
Please note the current stock is bagged not bottled. 
Ingredients:
 Baicalin, Theobromine and N-Acetyl-L-Tryptophan 
NOTE:
 These statements have not been evaluated by the Food and Drug Administration (FDA). This product is not intended to diagnose, treat, cure, or prevent disease.