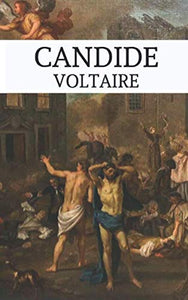 Candide
Author: Voltaire
Number Of Pages: 112
Publisher: Independently published
Details:
A new, beautifully laid-out, easy-to-read edition of Voltaire's Candide.  

---
Candide is Voltaire's 1759 satirical masterpiece, wreaking havoc on the excesses of 18th century French Enlightenment culture. The story begins with our protagonist Candide, a young man living a sheltered life in an Edenic paradise and being indoctrinated with Leibnizian optimism by his mentor, Professor Pangloss. This idyllic life is abruptly interrupted, however, by a series of painfully disillusioning events that set him off on a wide-ranging journey.

---
François-Marie Arouet (1694-1778), known by his nom de plume Voltaire, was a French enlightenment writer, historian, and philosopher famous for his wit and his advocacy for freedom of speech and religion.

EAN: 9781087113494
Release Date: 03-08-2019
Package Dimensions: 7.9 x 5.2 x 0.6 inches
Languages: English