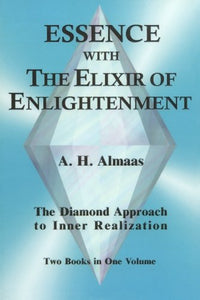 Essence with The Elixir of Enlightenment: The Diamond Approach to Inner Realization
Author: A. H. Almaas
Brand: Brand: Weiser Books
Color: Other
Features:
Used Book in Good Condition
Number Of Pages: 264
Publisher: Red Wheel / Weiser
Details: Essence has been combined with The Elixir of Enlightenment, a short introductory text directed toward students on the path who are frustrated by either the spiritual or psychological barriers that Western life can present. Discusses the values and shortcomings of spiritual training, and explores why an impasse may occur. Reveals how a precise understanding of your own personality can free your inner resources so that your essential being can lead you toward enlightenment.
EAN: 9781578630448
Release Date: 01-03-1998
Package Dimensions: 8.3 x 5.5 x 0.6 inches
Languages: English