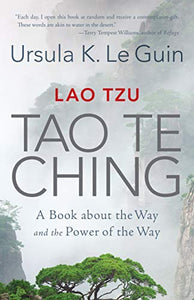 Lao Tzu: Tao Te Ching: A Book about the Way and the Power of the Way
Author: Le Guin, Ursula K.
Brand: Shambhala
Color: Silver
Edition: Reissue
Number Of Pages: 136
Details: Product Description A rich, poetic, and socially relevant version of the great spiritual and philosophical classic of Taoism, the Tao Te Ching—from one of America's leading literary figures In this landmark modern-day rendition of the ancient Taoist classic, Ursula K. Le Guin presents Lao Tzu's time-honored and astonishingly powerful philosophy like never before. Drawing on a lifetime of contemplation and including extensive personal commentary throughout, she offers an unparalleled window into the text's awe-inspiring, immediately relatable teachings and their inestimable value for our troubled world. Jargon-free but still faithful to the poetic beauty of the original work, Le Guin's unique translation is sure to be welcomed by longtime readers of the  Tao Te Ching as well as those discovering the text for the first time. Review "Among the many translations of Lao Tzu's Tao Te Ching, Ursula K. Le Guin's new version is a special treasure—a delight. There is something startlingly fresh and creatively alive here, brought forth by Ms. Le Guin's intuitive and personal ingenuity."—Chuangliang Al Huang, founder of the Living Tao Foundation and coauthor (with Alan Watts) of Tao: The Watercourse Way   "A student of the Tao for several decades, Le Guin has created an English text that will speak to modern readers in a fresh and lively way, while conveying the humor, insight, and beauty of the original."— Lion's Roar magazine   "The type of work which the great Polish poet and Nobel laureate Wisława Szymborska meant when she spoke of 'that rare miracle when a translation stops being a translation and becomes . . . a second original.' . . . The whole of Lao Tzu: Tao Te Ching is well worth savoring—as much for the ancient substance as for Le Guin's stylistic splendor."—Maria Popova, Brain Pickings About the Author Ursula K. Le Guin (1929–2018) is an internationally celebrated author of more than fifty books of fiction, poetry, and essays, including The Left Hand of Darkness, Always Coming Home, and the Earthsea Cycle series. Her numerous literary awards include six Nebula Awards, seven Hugo Awards, the Science Fiction and Fantasy Writers of America Grand Master Award, and the National Book Foundation Medal for Distinguished Contribution to American Letters.
Release Date: 14-05-2019
Package Dimensions: 8.4 x 5.4 x 0.6 inches
Languages: English