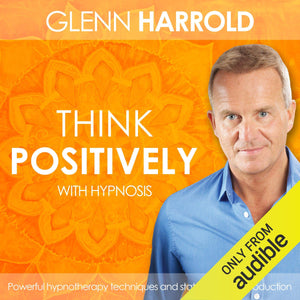 Learn How to Think Positively by Glenn Harrold
Author: Glenn Harrold
Format: Original recording
Publisher: Diviniti Publishing Ltd
Details:
Learn How to Think Positively features two hypnotherapy sessions to help you develop a more positive outlook. Glenn's relaxing voice will guide you into a completely relaxed state of mind and body. Hypnotic echoed background affirmations pan from left to right across the stereo range - a deeply relaxing and uniquely hypnotic effect.
Developing a positive mental attitude and a strong self-belief will give you much more confidence and help you to overcome stress and anxiety. Hypnotherapy is uniquely effective in programming the mind to overcome self-doubt and to create a positive mindset in a safe and natural way.
Track 1 will guide you into a deeply relaxed state of mind and body where you can learn, under hypnosis, how to cultivate the habit of positive thinking and see the positive in every situation.
Track 2 will help you create a more positive future outlook by using the full power of your imagination! The guided tour on this track is very original, and we receive a lot of very positive feedback from it.
Please note: The first track has an awake ending, which is for daytime use and will gently bring you back to full waking consciousness at the end. The second track has a sleep ending and will guide you into a peaceful sleep at the end, making it ideal for nighttime use.
Release Date: 29-10-2004
Languages: English