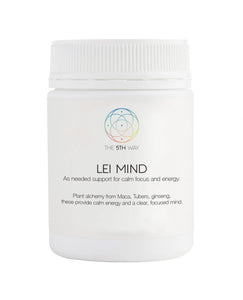 LEI Mind - The 5th Way
Feel mentally sharp and focused. As needed support for calm focus and energy.
Plant alchemy from maca, tubers, and ginsengs provide calm energy and a clear, focused mind. Maca is traditionally used for boosting energy, improving mood and providing hormonal balance. Ginseng creates clean energy and focus. 
Quantity:
 4 capsules in a blister pack (1 to 2 servings)
Ingredients:
 Maca root, Tubers powder, Korean #10 ginseng root powder, American ginseng root powder 
NOTE:
 These statements have not been evaluated by the Food and Drug Administration. This product is not intended to diagnose, treat, cure, or prevent disease. Should not be taken more than once a week.