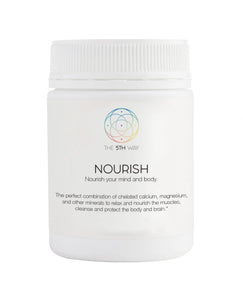 Nourish - The 5th Way
Nourish contains the minerals, Calcium, Magnesium in quantities that can relax and nourish your muscles. They are in a chelated form that allows for prevention of acid rebound in the stomach. Additional ingredients in this formula are antioxidants that insure a cleansing and protective effect upon the body and brain.
Quantity:
 112 capsules per bottle
Ingredients:
 Amount Per Serving Daily Value
Calcium (Di-Calcium Malate, TRAACS Calcium Glycinate Complex) – 250 mg 25%
Magnesium (Di-Magnesium Malate, TRAACS Magnesium Glycinate Chelate) – 250 mg – 63%
Vitamin C (Ascorbic Acid) – 100 mg – 167%
L- Glutamine – 100 mg
*L-Glycine – 100 mg –
*L-Methionine – 100 mg
*MSM (Methylsulfonlmethane) – 100 mg
*N-Acetyl L-Cysteine – 100 mg
*R-Alpha Lipoic Acid – 100 mg
*Taurine – 100 mg
*Alpha Ketoglutarate – 80mg
*Glutathione – 80mg*Calcium –D-Glucarate – 50mg
*Ornithine – 50mg*Vitamin D (Cholecalciferol) – 50IU – 12.5%
*Daily Value not established 
NOTE
: These statements have not been evaluated by the Food and Drug Administration. This product is not intended to diagnose, treat, cure, or prevent any disease.