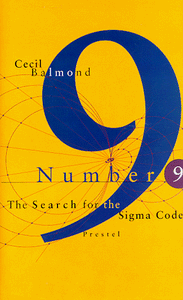 Number 9: The Search for the Sigma Code
Author: Cecil Balmond
Brand: Brand: Prestel
Features:
Used Book in Good Condition
Number Of Pages: 236
Publisher: Prestel
Details: Number 9 tells the story of Enjil, a boy mathematician who is challenged by a spirit to solve the riddle, What is the fixed point of the wind? As Enjil searches for the answer, he and the reader embark on a journey through myth, legend, and religion. Enjil s adventures lead readers to an appreciation of symmetry within asymmetry, classical ideas, and modern impulses. Along the way Balmond redefines arithmetic for the lay person and opens the gateway to further discoveries.
EAN: 9783791319339
Release Date: 01-07-1998
Package Dimensions: 7.6 x 4.8 x 0.9 inches
Languages: English