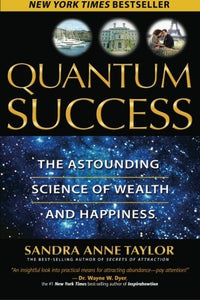 Quantum Success: The Astounding Science of Wealth and Happiness
Author: Sandra Anne Taylor
Brand: Hay House
Edition: 1
Features:
Number Of Pages: 270
Publisher: Hay House Inc.
Details: What would you do if you could really achieve all that you desire? This revealing look at the science of success will show you how to do just that! This formula for abundant living is actually based in the principles of quantum physics, and you can actually tap in to these powerful forces to make your dreams come true. Sandra Anne Taylor, international speaker, counselor, and corporate consultant, has been teaching these principles and techniques around the world with amazing results. Quantum Success is filled with eye-opening information and dynamic strategies that put the real keys to wealth and abundance at your fingertips. Don' wait a moment longer to unlock that Universal door. By understanding the science of attraction and manifestation, you can take a quantum leap into a life of unparalleled prosperity and happiness.
EAN: 9781401907327
Release Date: 15-05-2006
Package Dimensions: 9.0 x 6.0 x 0.7 inches
Languages: English