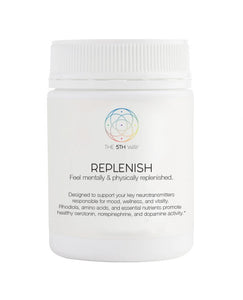 Replenish - The 5th Way
Feel mentally and physically replenished.
Designed to support your key neurotransmitters responsible for mood, wellness, and vitality. Rhodiola, amino acids, and essential nutrients provide healthy serotonin, norepinephrine, and dopamine activity.* 
Replenish is designed to recharge body and mind, balance mood, and boost energy. We've formulated this supplement with the amino acids and essential nutrients necessary to provide the natural precursors to serotonin, norepinephrine, and dopamine—and L-tyrosine, 5HTP, and vitamin B6 form the building blocks for the brain to increase production of these neurotransmitters. Additional B vitamins, taurine, and the herb rhodiola work together to energize and improve focus.* 
Quantity:
 60 capsules
Servings:
 30 servings
Ingredients:
 amino acids and essential nutrients to help naturally increase serotonin, norepinephrine, and dopamine levels.
Amount Per Serving % Daily Value
L-Tyrosine – 500mg*
Rhodiola rosea Extract – 250 mg*
5-HTP (5-Hydroxytryptophan) – 100 mg*
Vitamin C (Ascorbic Acid) – 50mg – 83%
Taurine – 25mg*
Vitamin B6 (Pyridoxal 5 Phosphate, Pyridoxine Hcl) – 20mg – 1000%
Vitamin B3 (Niacinamide) -10mg – 50%
Vitamin B12 (Methylcobalamin) – 15mcg – 250%*
Daily Value not established
Other Ingredients: Vegetable Cellulose (capsule), Microcrystalline Cellulose, Magnesium Stearate & Silicon Dioxide
NOTE:
  These statements have not been evaluated by the Food and Drug Administration. This product is not intended to diagnose, treat, cure, or prevent any disease.