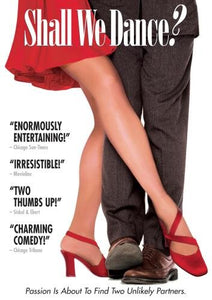 Shall We Dance? [1996]
Brand: Buena Vista Home Video
Format: Closed-captioned
Publisher: LIONSGATE
Details: Here's the irresistible comedy treat that had critics and audiences cheering all across America...and inspired the new Hollywood hit starring Richard Gere (Chicago), Jennifer Lopez (Maid in Manhattan) and Susan Sarandon (Dead Man Walking)! A middle-aged workaholic's incredibly dull life takes a funny turn when he signs up for a ballroom dance class - just to meet the sexy dance teacher. But when he finally muscles up the nerve for lessons, he winds up with a different instructor and her colorfully eccentric class of beginners! And now he'll have to step lightly - and do some fancy footwork - if he expects to keep his new secret passion from his family and friends!
UPC: 786936262049
EAN: 786936262049
Release Date: 04-01-2012
Package Dimensions: 7.1 x 5.4 x 0.6 inches
Languages: English, Japanese