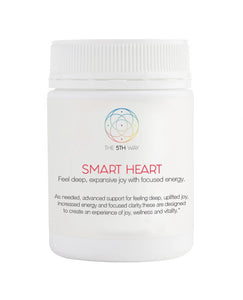 Smart Heart - The 5th Way
Feel deep, expansive joy with focused energy. As needed advanced support for feeling deep, uplifted joy, increased energy and focused clarity.
Plant alchemy from a strong kanna extract, ginseng and a nootropic creates an experience of deep joy, increased energy, and a clear, focused mental state.
Kanna is traditionally used as a natural anxiety and depression remedy. Ginseng provides clean energy and focus.
Noopept is a nootropic used to improve concentration, memory and cognitive ability. 
Quantity:
 5 capsules
Servings:
 5
Please note the current stock is bagged not bottled.
Ingredients:
 Kanna, American Ginseng, and Noopept 
NOTE:
 These statements have not been evaluated by the Food and Drug Administration (FDA). This product is not intended to diagnose, treat, cure, or prevent disease.