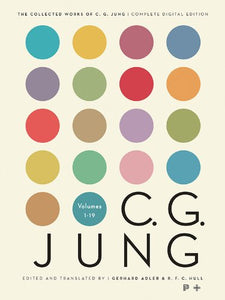 The Collected Works of C.G. Jung: Complete Digital Edition
Author: C. G. Jung
Format: Kindle eBook
Number Of Pages: 10203
Publisher: Princeton University Press
Details:
For the first time, The Collected Works of C. G. Jung is now available in a complete digital edition that is full-text searchable. The Complete Digital Edition includes Vols. 1–18 and Vol. 19, the General Bibliography of C. G. Jung's Writings. (Vol. 20, the General Index to the Collected Works, is not included.)
Volumes 1–18 of The Collected Works are available for individual purchase and are also full-text searchable
at http://press.princeton.edu/catalogs/series/bscwj.html [The Collected Works of C.G. Jung].
The Collected Works of C. G. Jung forms one of the basic texts of twentieth-century thought: at once foundational for depth psychology and pivotal for intellectual, cultural, and religious history. The writings presented here, spanning five decades, embody Jung's attempt to establish an interdisciplinary science of analytical psychology, and apply its insights to the fields of psychiatry, criminology, psychotherapy, psychoanalysis, personality psychology, anthropology, physics, biology, education, the arts and literature, the history of the mind and its symbols, comparative religion, alchemy, and contemporary culture and politics, among others: each in turn has been decisively marked by his thought. Of timely and ongoing relevance to the understanding of these fields, Jung's writings are at the same time essential reading for any understanding of the making of the modern mind.
Release Date: 01-03-2014
Languages: English