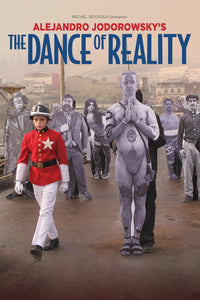 The Dance of Reality
Brand: Abkco
Features:
Format: Multiple Formats
Genre: Music Video & Concerts
Publisher: Abkco
Details: The Dance of Reality, written, produced and directed by Alejandro Jodorowsky is a mystical autobiography of Jodorowsky's childhood, blending his personal history with metaphor, mythology and poetry. The film reflects the director s view that reality is not objective but rather a dance created by our imaginations. After its world premiere at Cannes in 2013 and US premiere at SXSW in 2014, the film has received universal praise from all media outlets including the New York Times which hailed it as a near masterpiece and a NY Times Critics pick, the Los Angeles Times, Variety, The Hollywood Reporter, RogerEbert.com, Vulture, Film.com and indieWIRE. It opened in theaters on May 23rd as the #1 independent film in the country and is now Certified Fresh on Rotten Tomatoes with a score of 93%. Considered the father of the Midnight Movies, Jodorowsky is best known for his films, El Topo (1970) and The Holy Mountain (1973), which have since become cult classics.
UPC: 38781103696
EAN: 38781103696
Release Date: 25-08-2014
Package Dimensions: 7.5 x 5.3 x 0.2 inches
Languages: English, Spanish