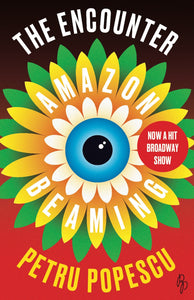 The Encounter: Amazon Beaming
Author: Petru Popescu
Brand: imusti
Features:
Number Of Pages: 448
Publisher: Pushkin Press
Details: THE ENCOUNTER tells the true story of National Geographic photographer Loren McIntyre who became lost in a remote area of Brazil in 1969, leading to a startling encounter that changed his life. 

The Broadway stage adaptation of THE ENCOUNTER will run from September 20, 2016 through January 8, 2017 at The Golden Theatre: http://theencounterbroadway.com/

"A mindblower" - Deadline Hollywood; "Transfixing" - Time Out New York; "Haunting and enthralling"- The Wall Street Journal; "An astonishing work of theater" - The New York Times.

1969: Loren McIntyre makes contact with the elusive Mayoruna 'cat people' of the Amazon's Javari Valley. He follows them - into the wild depths of the rainforest. When he realizes he is lost, it is already too late.

Stranded and helpless, McIntyre must adjust to an alien way of life. Gradually, he finds his perception of the world beginning to change, and a strange relationship starts to develop with the Mayoruna chief - is McIntyre really able to communicate with the headman in a way that goes beyond words, beyond language? Petru Popescu's gripping account of McIntyre's adventures with the Mayoruna tribe, and his quest to find the source of the Amazon, is reissued here to coincide with Complicite's acclaimed new stage production inspired by McIntyre's incredible story.
EAN: 9781782272335
Release Date: 13-09-2016
Package Dimensions: 8.4 x 5.9 x 0.7 inches
Languages: English