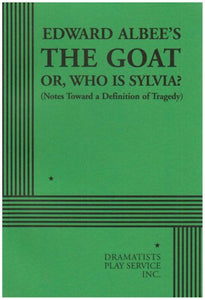 The Goat or, Who is Sylvia? - Acting Edition (Acting Edition for Theater Productions)
Author: Edward Albee
Brand: Brand: Dramatists Play Service, Inc.
Edition: 35359th
Features:
Used Book in Good Condition
Number Of Pages: 72
Publisher: Dramatists Play Service, Inc.
Details: Product description "Four decades after Virginia Woolf sent shock waves through the mainstream theatre, Mr. Albee still asks questions that no other major American dramatist dares to ask." –Ben Brantley, The New York Times Three-time Pulitzer Prize-winner Edward Albee's most provocative, daring, and controversial play since Who's Afraid of Virginia Woolf, The Goat won all the major awards for best new play of the year (Tony, New York Drama Critics Circle, Drama Desk, and Outer Critics Circle). In the play, Martin-a hugely successful architect who has just turned fifty-leads an ostensibly ideal life with his loving wife and gay teenage son. But when he confides to his best friend that he is also in love with a goat (named Sylvia), he sets in motion events that will destroy his family and leave his life in tatters. The playwright himself describes it this way: "Every civilization sets quite arbitrary limits to its tolerances. The play is about a family that is deeply rocked by an unimaginable event and how they solve that problem. It is my hope that people will think afresh about whether or not all the values they hold are valid." Review Unquestionably one of the wittiest and funniest plays Albee has ever written . . . truly fascinating . . . enthralling. -- Clive Barnes, New York Post About the Author Edward Albee (1928-2016), his plays include The Zoo Story (1958), The American Dream (1960), Who's Afraid of Virginia Woolf? (1961–62, Tony Award), Tiny Alice (1964), A Delicate Balance (1966, Pulitzer Prize, and Tony Award, 1996), Seascape (1974, Pulitzer Prize, also available from Overlook), Three Tall Women (1994, Pulitzer Prize), and The Play About the Baby (2001, also available from Overlook). He was awarded the Gold Medal in Drama from the American Academy and Institute of Arts and Letters in 1980, and in 1996 he received both the Kennedy Center Honors and the National Medal of Arts.
Release Date: 01-01-2004
Package Dimensions: 7.5 x 5.1 x 0.2 inches
Languages: English