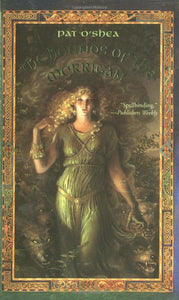 The Hounds of the Morrigan
Author: Pat O'Shea
Number Of Pages: 688
Publisher: HarperTeen
Details:
An Ancient Manuscript...
When ten-year-old Pidge finds the crumbling pages of an old manuscript in a second-hand bookshop in Galway, he unwittingly releases the serpent Olc-Glas--and the forces of good and evil gather to do battle. The Mórrígan, Goddess of Death and Destruction, has set her evil heart on gaining Olc-Glas and adding its poison to her own, thereby casting her shadow over the world.
A Lost Stone...
To thwart The Mórrígan, Pidge and his little sister Brigit are sent by The Dagda, Lord of Great Knowledge, on a quest to find a stone that has been lost for countless years--th only means of destroying the serpent.
A Perilous Adventure...
Pidge and Brigit's journey begins in Ireland...their destination is unknown. All true creatures help where they can, but ultimately, it is up to steadfast Pidge and courageous Brigit to find their own way. And always at their heels are the terrible hellhounds--the hounds of The Mórrígan....
When ten-year-old Pidge finds an ancient manuscript in a secondhand bookshop, he unwittingly sets into motion an epic battle between Good and Evil. In order to save the world from the Mrrgan, the Goddess of Death and Destruction, Pidge and his little sister, Brigit, go on a quest to find a stone that has been lost for countless years. And always at their heels are the terrible hellhoundsthe hounds of the Mrrgan. . . .A classic tale that has been unavailable in paperback for almost ten years, The Hounds of the Mrrgan is a book to treasure and to keep alongside the works of J. R. R. Tolkien, C. S. Lewis, and Philip Pullman.A splendid fantasy . . . rich and satisfying. Starred Review/The Horn Book[A] brilliant tapestry. Starred Review/ALA BooklistSpellbinding . . . entirely original. Publishers Weekly
EAN: 9780064472050
Release Date: 04-06-1999
Package Dimensions: 6.7 x 4.3 x 1.7 inches
Languages: English