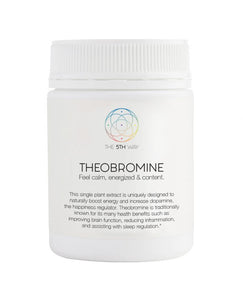 Theobromine - The 5th Way
Feel content with calm energy. This single plant extract is uniquely designed to naturally boost energy and increase dopamine, the happiness regulator. Theobromine is traditionally used for improving mood, energy, brain function, reducing inflammation, and assisting with sleep regulation.
Quantity:
 30 capsules
Servings:
 30 servings 
Ingredients:
 Theobromine 
NOTE:
 These statements have not been evaluated by the Food and Drug Administration (FDA). This product is not intended to diagnose, treat, cure, or prevent disease.