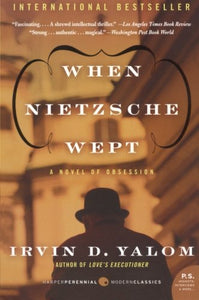 When Nietzsche Wept: A Novel Of Obsession
Author: Irvin D. Yalom
Brand: Irvin D Yalom
Edition: Reprint
Features:
When Nietzsche Wept By Yalom Irvin D
Number Of Pages: 352
Publisher: Harper Perennial Modern Classics
Details:
"Magical." -Washington Post Book World
"The best dramatization of a great thinker's thought since Sartre's The Freud Scenario." -Chicago Tribune
From renowned psychiatrist Irvin D. Yalom, acclaimed author of The Schopenhauer Cure and Love's Executioner, the international bestseller When Nietzsche Wept is a richly imagined tale of two brilliant and enigmatic men plumbing the depths of their psyches to discover the redemptive power of friendship.
EAN: 9780062009302
Release Date: 22-03-2011
Package Dimensions: 7.9 x 5.2 x 1.0 inches
Languages: English